Five Gifts from the Angels
Your First Angel Gift – A Meditation for Love
This is a short, simple guided visualisation which is 10 minutes long. It's perfect for those new to meditation and for a quiet moment at any time of the day. You are guided to become open to receiving divine energies of love for yourself, your community and the world. If you're new to meditation simply find a quiet space away from distractions and where you won't be disturbed. Breath deeply and relax.
Your Second Angel Gift – Angel Blessings, An Introduction To Working With Angels
Darren's short introduction provides you with a greater understanding of the importance of intuition, higher wisdom and the role of angels in your life. It also shows how you can call upon the angels to help you and notice their answers and blessings. Click on the image to download the book as a PDF file. The book is accompanied by a second guided meditation to welcome the angels into your life. This meditation is around 18 minutes.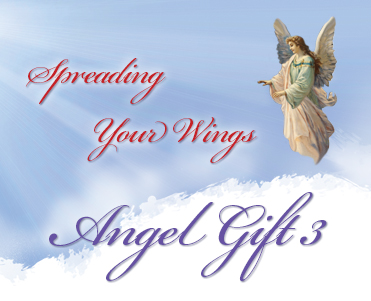 Your Third Angel Gift – Spreading Your Wings
In this ebook, Darren looks at the impact that livng and working with angels has on our lives, covering issues like healing, relationships, parenting, money and personal transformation. Full of examples and inspiring stories from Darren's students around the world. Click on the image to download the book as a PDF file.
Your Fourth Angel Gift – Three Key Steps To Your Life Purpose
You are unique, with your own gifts, talents and experience. In this audio webinar, Darren reveals the key steps to finding your life purpose, unlocking a life full of joy, fulfillment and abundance, doing what you love and serving the world. If you're 'stuck' in life and don't know which direction to take or how your life will unfold, take these steps to discover that illusive missing link. The webinar is just over one hour long.
Your Fifth Angel Gift – Personal Transformation
If you've been inspired by the previous ebooks, webinar and meditations, we'd like to invite you to try Guided By Angels for yourself, at 50% off the usual price!  The angels are ready and waiting to guide and support you on your life journey. The charges we make for our courses go towards helping support our work financially – spreading the message of love across the planet. And as a new member of our community, we want to encourage you to take the next step in your personal transformation. Do you want to learn the step-by-step process for connecting with divine angels, archangels and spirit guides? If so it's available to you at 50% discount for a limited time.